Every moment is a fresh beginning.'
Hope 2022 was a year filled with adventures, laughter, passion and realisation for you.
As said to you last year, we delivered our promise of doing more exciting giveaways, more product launches, and more inspiration.
For 2023, we have a few predictions when it comes to the home and beyond sector.
Talking about home and interior-wise, interior connoisseurs and experts predict this year to be quite flamboyant. There'll be a resurgence in darker colours when it comes to home interiors and exteriors, and  perhaps a bit of contrast would also continue to play its role.
A lot of our homeowners ask us whether a dark-coloured door would look good against their light exteriors or some other style. It is rather subjective as we've seen both, contrasts and match do really well.
Some examples of our dark-coloured doors against light exterior (contrasts):
Some examples of our light-coloured doors: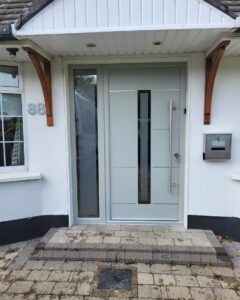 You may also be interested in:
Retro touches may see a return when it comes to furnishing the house to make it resemble a period property.
You may also be interested in:
Home office continues to be upgraded as people continue working from homes or have now chosen a hybrid way of working. Pandemic-inspired 'cloffices' or closet-offices are now receding into the background and instead people are carefully choosing to reinvent their home offices into something more sustainable that would resonate with their homes.
Recycling will continue to be in vogue. So would be pairing both, your home interiors as well as exteriors with some huge fancy lighting.
These were some of the trends that have been predicted for the year again. Only time will tell how many of these actually come to life.
We hope that this New Year will bring you nothing but joy! Stay tuned for exciting news, product launches, collaborations and more from The Palladio Door Collection.
Design your dream door here or browse our product gallery here for inspo. Come home to Palladio!